Nixon Ride Watch
Find yourself out there.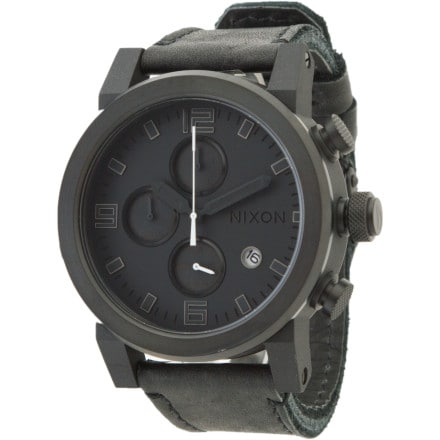 Quantity Remaining:
2
Time Remaining:
Description
Nixon wrapped up the spirit of Beat generation America in a crisp package with the advent of the Ride Watch. Purge the mundane and take to the open highway, with nothing but the steering wheel and time on your side. The Ride's stainless steel housing complements a traditional leather band and bespeaks a kind of class found only in smoky middle-America jazz joints.
Triple-layer stainless steel construction offers durability and peace of mind for more physical adventures
Horween leather band features side-stitching for longevity and reliability
Japanese quartz chronograph with wide eye subdials and date provide you info you need when you wake up in unknown locales
Tech Specs
Housing Material
stainless steel
Strap Material
leather
Chronograph
yes
Backlight
, luminous hands
Water-Resistant
yes, 100m
Date Indicator
yes
Face Size
49 mm
Recommended Use
casual
Manufacturer Warranty
2 years
Reviews
Simple and Classy
April 8, 2013
I honestly can say that I wish they had a women's version of this watch... I got this as a gift for my man so he wouldn't wear his Player Watch out too quickly. The Ride is a SUPER sick watch- again, one of those that you can dress up or wear with your everyday getup. The face is very large- if you don't like the watch taking up nearly your whole wrist, I would recommend looking elsewhere. The Desert Suede is super styley as well- the band has the worn look without looking trashy. Overall, I would absolutely recommend this watch!
– Kayla Weiser